Business Process Automation or BPA as it is commonly known, is the software automation of business processes.
These software applications are used to automate repetitive tasks in the business process to make it more efficient.
BPA can be used to automate different business processes such as the Document Approval Process, Employee Onboarding Process and Leave Application Process.
So how can a Business Process be automated ?
Every organization has business processes even if they are not acknowledged and documented.
A business process is a way of performing a set of tasks to fulfil a purpose.
A good example of a common business process is the Sales Order Process.
A Sales Order Process is the process which starts when a customer purchases a product and ends when the products are delivered to the customer.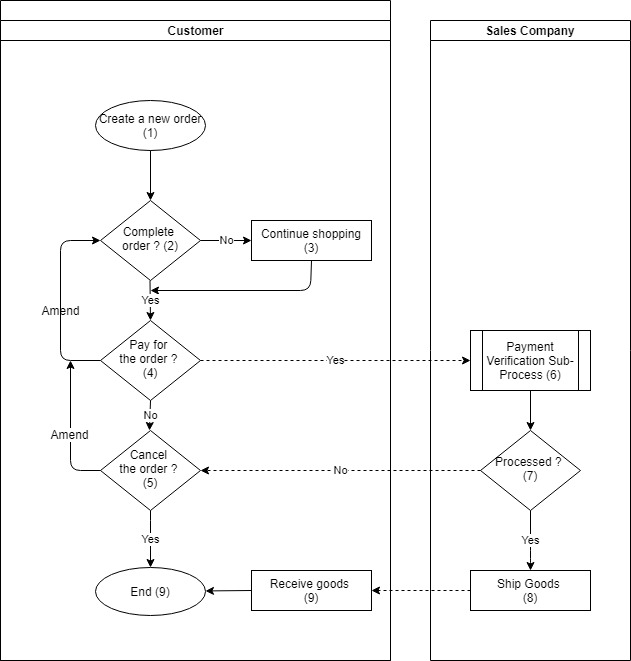 Sales Order Process
Sales Order Process detailed steps
The process starts when the customer wants to buy some items and they create a new sales order.
After they add an item to the sales cart, they would have to decide if they are done with shopping or if they would like to continue shopping.
If the customer is not done with shopping, they can continue adding items to the cart.
But if they are done with shopping then they can decide if they want to pay for their order.
If they decide not to go ahead with the order, they can cancel the order.
But if they want to complete the order then they would go through the Payment Verification Sub-Process. The Payment Verification Sub-Process involves the customer choosing a payment method, inputting the delivery address and completing the sales order payment.
Once the payment is made, it is reviewed by the sales team and processed.
If the payment is processed successfully then the goods are prepared for shipment and shipped. But if the payment fails then the process goes to step 5.
Once the goods are delivered to the customer, they receive their goods and the process ends.
Now what if some of these steps can be automated ?
For example if the customer has an account with the sales company, the sales software would have a record of their previous purchases so it can recommend items to be added to their cart based on their previous sales history.
Or the customer can go through their previous orders and reorder previously purchased items which would be automatically added to the sales cart, thereby reducing the need to search and find items to buy.
The sales software can be used to store the customers previous payment and delivery information and this information can be reused on a new sales order. Thereby eliminating the customer's need to input that information every single time.
All these improvements can help increase efficiency, increase customer loyalty, improve the customers experience and reduce bottlenecks in the process.